Latest news and trends on sugar 
Malawi enjoys increased allocation in tariff-rate quota (TRQ) for the US sugar market this year
Lilongwe, August – U.S. Ambassador to Malawi Virginia Palmer today announced that Malawi's country-specific allocation of the tariff-rate quota for raw cane sugar imports to the United States has increased by 45% in fiscal year 2017.  "Malawi exported $10.7 million worth of sugar to the United States in 2016, an increase of 25% from 2015.  This quota increase for fiscal year 2017 could mean an additional $4 million worth of Malawian sugar exports to the United States.  The United States remains committed to increasing trade between the United States and Malawi," said Ambassador Palmer.
The Office of the United States Trade Representative recently announced country-specific reallocations and additional volume allocations of the fiscal year 2017 World Trade Organization tariff-rate quota (TRQ) for imported raw cane sugar.  The additional allocation for Malawi represents a 45% increase in the TRQ for fiscal year 2017.
TRQs allow countries to export specified quantities of a product to the United States at a relatively low tariff.   Malawi's initial TRQ for fiscal year 2017 was 10, 530 MTRV (metric tons raw value).  Malawi has received 1,327 MTRV in re-allocation and 2,622 MTRV in increased allocation, for a total of 4,728 MTRV additional for fiscal year 2017.
Sugar is Malawi's third largest export to the United States, following tobacco and tea.  Other significant exports include coffee, macadamia nuts, and apparel.  Since 2013, sugar exports from Malawi to the United States have more than tripled, accounting for 14% of Malawi's total exports to the United States.  Malawi exported $75.6 million worth of goods to the United States in 2016, while it imported $46.6 million from the United States.https://mw.usembassy.gov/malawis-sugar-exports-united-states-increase/
Vietnam sugar producers merge to compete with Thai sugar
Sugar company Thanh Thanh Cong Tay Ninh (SBT) is acquiring Bien Hoa (BHS) in the hope being competitive in both the home and regional market, according to local press reports.
SBT Joint Stock Company (JSC) will make a share swap to fully acquire Bien Hoa Sugar JSC. SBT will issue nearly 304 million shares to convert all outstanding shares of Bien Hoa Sugar. BHS will cancel listing on August 30 to swap shares.
Through the acquisition of BHS, SBT will become the largest sugar manufacturer in Vietnam holding 30% of the domestic market share with its cane acreage increasing to 40,000 hectares producing 3.4 million tons of sugarcane, representing 22% of the country's overall output.
Further, with the acquisition of Bien Hoa Sugar, SBT will own other large sugar companies including Bien Hoa – Ninh Hoa Sugar, TTC Gia Lai, Phan Rang Sugar, Tanisugar and TTC Attapeu. Before the merger deal was made, SBT and BHS wrapped up a deal on buying HAGL Sugar at VND1.33 trillion (US$57.2 million).
The merger is prompted by the fact that Vietnamese sugar has to struggle with Thai sugar in the domestic market which has been smuggled into Vietnam or brought to Vietnam under the disguised mode of temporary imports for re-export later. The price gap between Thai and Vietnamese sugar has increased from VND500-1,000 (USȼ 2.2-4.4) per kilo to VND800-1,500 per kilo.
Smuggled Thai sugar has caused Vietnamese sugar companies to take losses and forced them to shut down. The companies which still maintain operations are facing big difficulties because of the market narrowing and the big inventory volume.
Further, the establishment of the ASEAN Economic Community has meant Vietnam imports from ASEAN will be taxed 5% instead of 80-100% previously. After 2018, sugar imports will be free of tax from any one of the 10 countries who are part of the community. This includes Thailand.
 UK sugar industry licks lips over end of EU quotas and price-fixing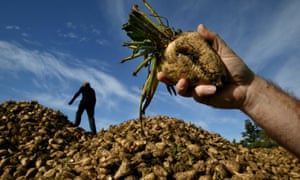 Move will allow farmers to produce as much sugar beet as they want – although retention of tariffs on cane version will hurt Tate & Lyle
The end to almost fifty years of Brussels protectionism this weekend is set to shake up Britain's sugar industry – with the potential for boom or bust for producers. But there's a sweetener for consumers, as prices are expected to fall.
The European Union is abolishing its system of quotas and minimum pricing for sugar from Sunday 1 October, in one of the biggest changes for British agriculture in recent years. The UK's 3,500 growers of sugar beet – a sweet root vegetable that looks like a turnip – and the country's sole refiner, British Sugar, expect the change to allow them to increase production by 50% annually.
It's an industry that supports nearly 10,000 jobs across the country, helping the UK to consume roughly 2m tonnes of sugar a year. About 60% comes from home-grown beets, while another 15% comes from the EU and the remainder is from imported cane sugar.
The sugar rush comes as the EU scraps limits on production for the first time since 1968. Britain had been limited to producing little more than one million tonnes a year, which has led to stockpiling following bumper harvests. British Sugar, a part of the Associated British Foods conglomerate, plans to immediately increase production to 1.4m tonnes next year from 900,000 tonnes in 2017.
Paul Kenward, the company's managing director, said: "I'm optimistic and our growers are too. In the past you could bang on my door and say you wanted more sugar, but I had to say no even if I could make it. Now that is changing."
But with the vote to leave the European Union, higher taxes on sugary drinks and a government push to wean consumers off unhealthy treats, the industry may face a sticky future. Producers will also be more exposed to the global sugar price as protections recede.
Brussels is also keeping punitive tariffs on imported cane sugar – which makes a substance chemically identical to beet – in a bitter development for one of the oldest names in the British sweetening industry, Tate & Lyle Sugars. The company was one of the most vocal proponents of Brexit for just this reason.
Consumers could benefit from falling prices, although not immediately, according to Callum Macpherson at the City bank Investec. "If prices are passed through to consumers, where you might see a noticeable effect, at some stage, is on the cost of buying a bag of sugar in the supermarket," he said.
Farmers could find themselves with staff shortages or higher costs as low-skilled European migrant workers leave Britain following the Brexit vote. The industry is thought to need about 90,000 seasonal workers a year by 2021, on top of the more than 250,000 permanent workers – more than three-quarters of whom now come from the EU. However, beet isn't as hard to pick as some crops and the process has already been heavily automated, which could limit the impact.
The opportunity to grow without limits is enticing some farmers to plant more and some companies to invest. Dubai-based Al Khaleej International is considering a huge new factory, which would be the first to open in the UK for 90 years, close to Harrogate in Yorkshire.
British Sugar – which operates four sites across east Anglia and the east Midlands – argues that Britain can export more to the EU and global markets. It estimates that beet yields have improved by more than 25% in the UK in the last 10 years.
Kenward said: "On the risk side, is that my competitors in Europe have been holding back due to volume quotas. But we've prepared for it, and can now sell to customers in the UK, EU and around the world."
Across the EU, sugar production next year is now forecast at 20.1m tonnes, about 20% more than this year's crop. Imports are expected to fall to 1.5m tonnes, while exports are forecast to double to 2.8m tonnes.
A government spokesperson said: "The removal of EU sugar beet quotas will enable British growers compete on a level playing field with other sugar producers around the world."